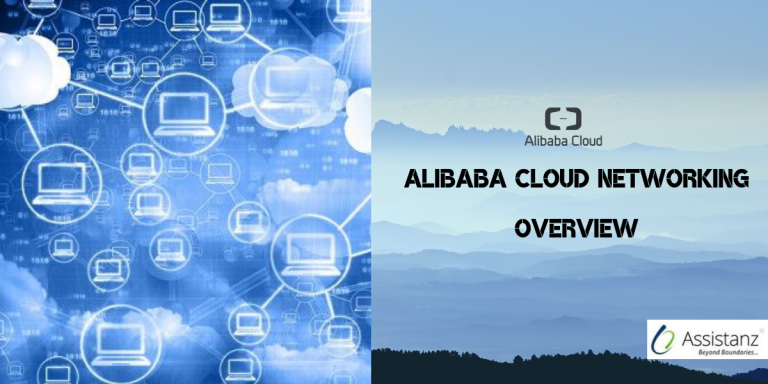 In this blog, we will share the Alibaba cloud networking Overview.
ALIBABA VPC
Virtual Network is your own logically isolated area within the Alibaba cloud-based SDN (Software Defined Network) technology.
It provides VLAN level isolation and blocks outer network communications.
Users can customize their own topology including assigning an IP address, allocating network segment and configuring V-Switches and V-Router.
Integrate existing Datacentre through dedicated line (or) VPN to form a hybrid cloud. So both on-cloud and off cloud resources can share the same network address scheme.
SECURITY ISOLATION
In Alibaba cloud networking, VPC adopts the VxLAN protocol.
Each VPC has assigned an independent Tunnel ID.
It controls L2 ARP broadcast domains within a single NIC which is similar to VLAN.
USER DEFINED NETWORK
Users can customize the VPC & Private IP address of ECS instances.
Customizing the network address can effectively reduce the number of access control rules which can eventually lower the administration cost.
VPC TOPOLOGY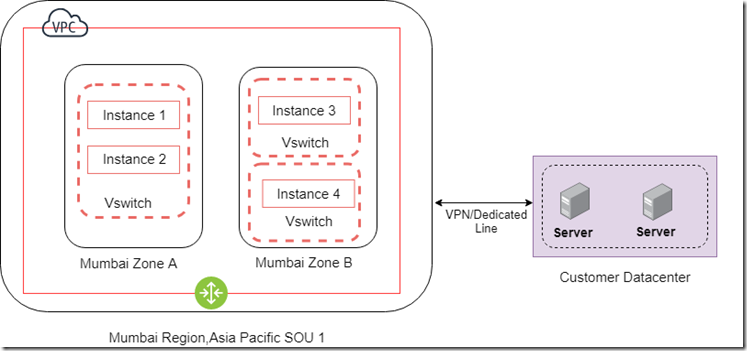 In the above example VPC topology, There are two zones named Zone A & Zone B in the Mumbai Region.
There are two instances named Instance 1 and Instance 2 and enclosed with the same V-switch.
This V-switch is enclosed with VPC using V-Router.
Another zone named Zone B which has two instances named instance 3 and instance 4.
These two instances are enclosed with different V-switches.
VPC can enclose different V-switches from different zones. We can use the V-Router to connect these V-Switches at the same time.
We can hybrid the customer datacenter with VPC using a VPN (or) dedicated line.
ELASTIC PUBLIC IP (EIP)
The resources in the VPC are assigned with Internet IP which is only valid inside the VPC.
If we want to access our ECS resources through the internet, we can buy the instance with EIP.
Once we purchase the EIP, we can bind to VPC type ECS instances inside the same region.
VPC KEY COMPONENTS
Virtual Switch is the basic network device of a VPC. It used to connect different cloud product instances in a subnet within a VPC.
You can assign one (or) more virtual switches inside an availability zone.
Virtual Router is a hub in the VPC the connects all the virtual switches in the VPC.
It serves as a gateway device that connects the VPC to other networks.
SECURITY GROUP FEATURES
The security group is similar to a firewall.
We can specify one or more firewall rules in a security group including a network protocol, port, and source IP.
These rules are effective for all instances within the security group.
Every instance belongs to at least one security group.
A security group can isolate different users. For example, the instances that belong to different users can be placed in different security groups.
Each user can have up to 100 security groups. Each group can contain up to 1000 instances.
A single instance can join up to 5 security groups.
Each security group will have a maximum of 100 rules.
Alibaba cloud will create a default security group for each user.
This security group allows a public internet connection.
REFERENCE
https://www.alibabacloud.com/help/doc-detail/34217.htm
Thanks for reading this blog. We hope it was useful for you to learn about the Alibaba cloud networking Overview.